By Maria Archibald, Sustainability Office
The COVID-19 pandemic, which has disproportionately affected Indigenous people and other people of color, recently directed mainstream media attention to another serious public health issue: many people living on Native American reservations do not have access to clean water.
Dr. Heather Tanana, research assistant professor in the College of Law and enrolled citizen of the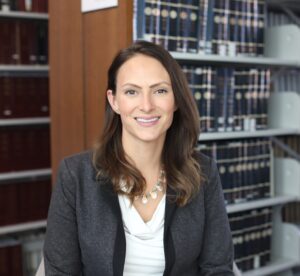 Navajo Nation, works to address these access issues with the Water and Tribes Initiative (WTI), an organization that was established to educate Tribal representatives about the Colorado River Guidelines and to ensure that Tribes have a voice at the table during negotiations about water distribution. On Tuesday, Oct. 19 at 4 p.m., Tanana will discuss her work in a Global Change & Sustainability Center (GCSC) Seminar called "Universal Access to Clean Water for Tribal Communities."
Tanana, who was born in Montezuma Creek on the southern Utah portion of Navajo Nation, says her family is influential in her work for water access and water justice in Native communities. Her father, a physician who spent his career working for the Indian Health Service and clinics across the Navajo reservation, instilled in her a strong sense of responsibility.
"It was an assumption—yes, you'll go to college, you'll get educated, but then you should use your skill set to help your community," Tanana says. "So, I went to law school because … the health services for Native Americans in this country are based on treaty and trust responsibilities that the federal government has."
The work of the WTI was a perfect match for Tanana's intersecting interests in environmental law, health policy, and Indian country, and she agreed to lead their research team. "This project fit right squarely in that interest area," Tanana says. Her work with WTI strives to hold the federal government accountable and remove barriers that Native communities face "in getting something as basic as water."
Up to 40% of people on Navajo Nation do not have piped water in their home, but water access issues don't end there. "There were these other areas that our research uncovered beyond just piped service delivery," Tanana explains. Her research looks at the different federal programs available to address these problems, examines the limitations of each program, and suggests actions that can lead to tangible progress on the ground.
"We say American Indian history is U.S. history, but so few of us are taught anything about that historic relation between tribes and the U.S.," Tanana says. "These are sovereign nations that continue to exist today. I always just like to educate people so that they're aware of that history and the current environment on tribal lands."
Tune in on Tuesday, Oct. 19 at 4 p.m. to learn more from Tanana about Native American history, its implications for water (in)justice on Tribal lands, and her work to address these serious environmental and public health issues through law and policy.