Our mission is to engage the campus community in ecologically sound and just food systems through garden-based experience, education and research.
The Edible Campus Gardens create a living, learning laboratory environment on campus. During the growing season, we harvest a wide variety of vegetables and greens to sell at the University of Utah Farmers Market, trade with volunteers and donate to the FeedU Pantry. Since 1996, our gardens have been a resource for the campus community to receive fresh produce, conduct research and facilitate sustainable gardening practices. Discover more about the gardens, volunteer opportunities, academic applications and ways to stay connected.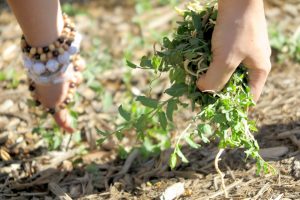 Volunteer in the Gardens
At this time, we will not be hosting garden volunteer sessions to protect the health of the community and our employees.
Learn in the Gardens
The Edible Campus Gardens are available for class tours and projects. Various classes use the gardens as a living learning laboratory. Contact the Sustainable Food Initiatives Manager to host a class or project in the garden.
Our Locations
There are two Edible Campus Gardens locations: The Pioneer Garden, located just east of Pioneer Memorial Theatre, and the Sill Garden, which is located in front of the Sill Center.