Join the Sustainability Office and the American Indian Resource Center (AIRC) this Earth Week for daily events, activities, and learning opportunities that celebrate not only the earth but also the people and communities who have stewarded the land since time immemorial.
This year's Earth Week theme, "Indigenizing Utah," was developed in recognition that the university is located on the traditional and ancestral homelands of the Shoshone, Paiute, Goshute, and Ute tribes, and with respect for the enduring relationships that exist between many Indigenous peoples and lands. Earth Week 2023 will honor Indigenous ways of knowing and relating to the land, and explore what environmental justice means for Native communities.
Earth Week Events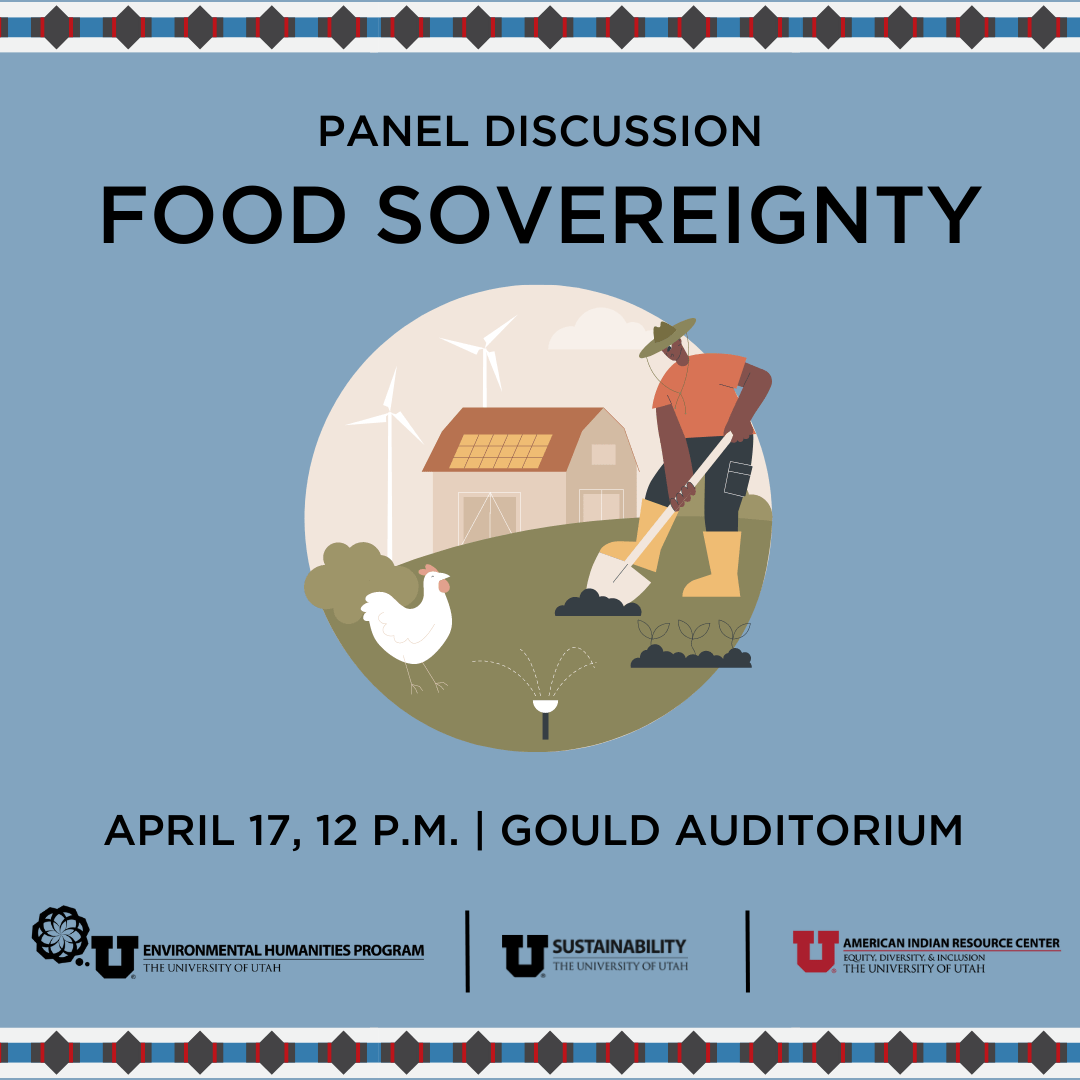 Panel: Food Sovereignty
12 p.m. – 1 p.m. Gould Auditorium. Panelists from urban and rural Native communities will discuss the right to healthy and culturally appropriate food, traditional growing and gathering practices, and pathways for healing and revitalization of Indigenous agricultural systems. Attend in person or on Zoom.
Keynote: Darren Parry
7 p.m. – 8.p.m. Gould Auditorium. Darren Parry, former Chairman of the Northwestern Band of the Shoshone Nation, will give an Earth Week keynote address titled "An Indigenous Perspective on Climate and the Environment." Attend in person or on Zoom.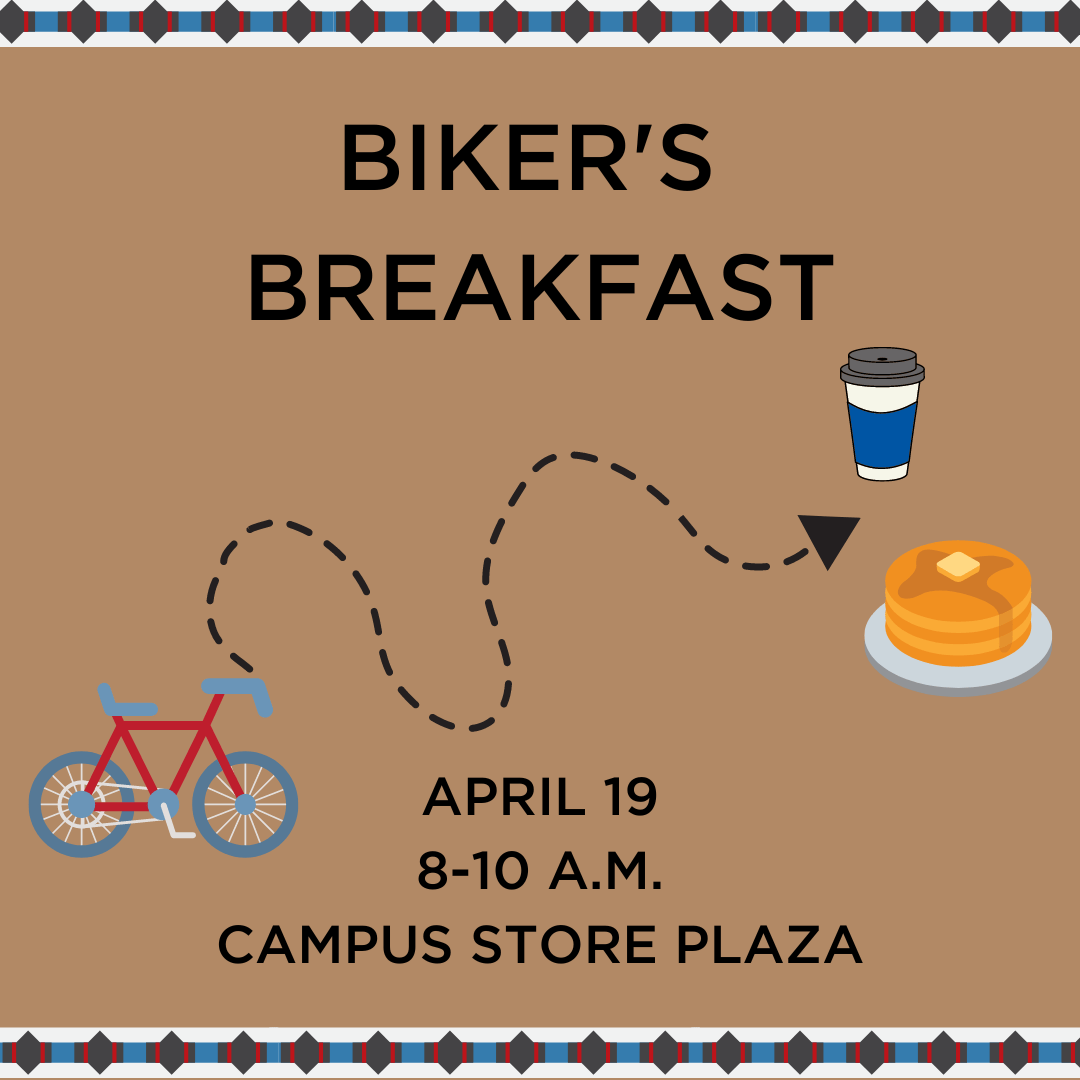 Biker & Commuter Breakfast
8:00 a.m. – 10 a.m. Campus Store, North Plaza. Stop by for a drink and free breakfast! (Vegan options available). Register your bike with UUPD for a free U Lock – you must bring your bike and University ID card in order to register.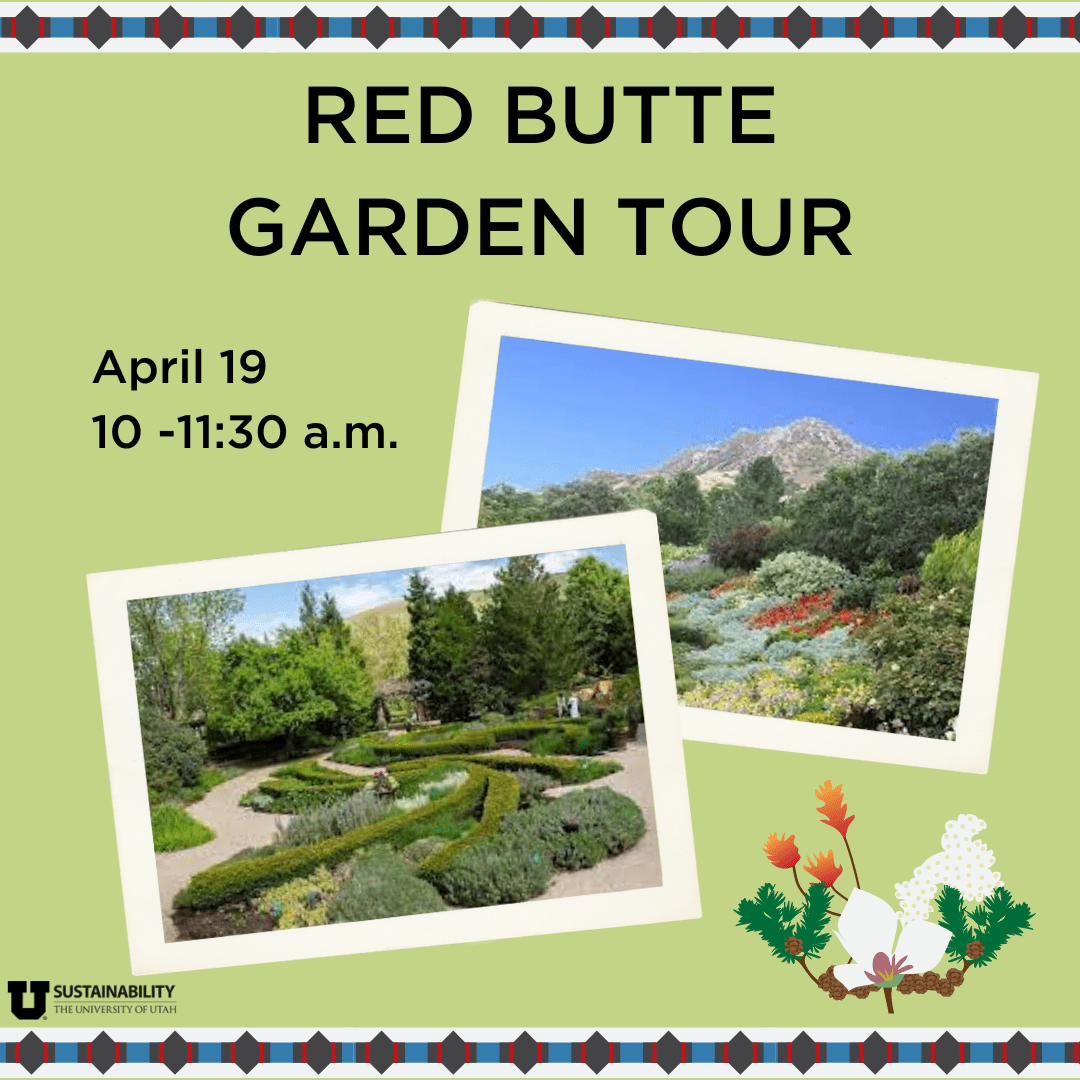 Red Butte Garden Tour
10 a.m. – 11:30 a.m. Red Butte Garden. Join lead horticulturists at the Red Butte Garden to learn about native plants and water-wise gardening! No registration is required, but space is limited. This event will be first come, first served.
Panel: Indigenizing Spaces
4-5:30 p.m. Gould Auditorium. This panel will illuminate the work of Indigenous changemakers at the U who are indigenizing campus, and creating belonging for Indigenous people through sustainability partnerships.
U Recycle Day
8 a.m. – 4 p.m. Guardsman Parking Lot. Responsibly recycle your clutter. Shred your old documents, find a new home for gently-used furniture, offload your expired and leftover medicines, or safely dispose of household e-waste. Participants are also invited to donate items like clothing, books, and toys! Learn more.
Garden Volunteer Shift
8:45 a.m. – 12:30 p.m. Pioneer Garden. Celebrate Earth Day with the Edible Campus Gardens! We'll get our hands in the soil and prepare the garden for spring planting. Be sure to wear weather-appropriate clothes that you can move in and be prepared to get dirty!
RELATED CAMPUS EVENTS
If your department or organization is hosting an Earth Week event, the Sustainability Office would love to include it here. Please email sustainability@utah.edu for more information.
Week-long events
Indigenous Spaces at the University of Utah - A Walking Tour. The University of Utah is situated on the Lands of the Goshute, Paiute, Ute, and Shoshone peoples. Take a self-guided walking tour of campus using this story map to learn about the University of Utah as an Indigenous space. The story map highlights elements, places, or features considered valuable and relevant from an Indigenous viewpoint and, in this way, begins a discussion for decolonizing and indigenizing the U.
Main Campus Store - Spring Sales.  From April 19 to the 22 you can purchase items that will reduce plastic and be more sustainable.  Bring in a reusable bag and get 10% off your purchase too!
Monday, April 17
Basic Needs Collective Birthday Party. 12-2 p.m. Union Plaza. The Basic Needs Collective is celebrating its 1st Birthday Party! Join us for free tacos, cake, and a visit from Swoop. In the event of precipitation, the event will relocate to the BNC's Union basement office.

Seed Library Planting Party. Union Plaza. 12-2 p.m. Hands-on learning on how to plant, basic gardening skills, and indigenous crops.

Plant Kit Giveaway. Marriott Library Plaza. Kick off Earth Week with ASUU and receive a free plant kit.

 
Tuesday, April 18
Book Talk with Gretchen Henderson - Life in the Tar Seeps: A Spiraling Ecology from a Dying Sea. 2 p.m. - 3 p.m. Humanities Building Rm. 109. Learn more.
GCSC Seminar - "Using Interdisciplinary, Multimodal Advocacy to Advance Environmental Justice in Louisiana." 4 p.m. - 5 p.m. FASB 295 and online. With Ruhan Nagra, associate professor of Law and director of the Environmental Justice Clinic at the University of Utah. Learn more and register.
CANCELED - Sustainability Zoom Cooking Hour. 6-8 p.m. Zoom.
Wednesday, April 19
Hinckley Forum Series Panel: Reframing the Con

versation. 12 p.m. - 1 p.m. Gardner Commons 2018. In this special Earth Week edition of Reframing the Conversation, we'll explore the number of ways Indigenous communities are being affected by environmental crises, why these problems continue to occur, and how many are becoming involved and pushing back.
Thursday, April 20
Climate and Health Equity Symposium. 8:30 a.m. - 12 p.m. Natural History Museum of Utah. This symposium bring together a diverse group of public health practitioners, stakeholders, climate experts, and leaders in the community to build and strengthen partnerships, and to gain resiliency by learning about climate inequity in Salt Lake County. Learn more and register.

Building a Mini Greenhouse. 11 a.m. -1 p.m. Main Campus Store. Don't miss out on building a Mini Greenhouse with Starbucks at the Main Campus Store! Come visit our table at the store for more information about sustainability practices and enter our raffles!
Friday, April 21
Campus Tree Tour. 1 p.m. - 2 p.m. Join a University of Utah arborist to learn about trees on campus, see native plantings and celebrate the U as a proud Tree Campus. Meet at the Block U by the Campus Store and wear comfortable clothes for walking.
Saturday, April 22
Earth Day Qigong. 10:30-11:30 a.m. Red Butte Garden Courtyard. Join Sifu Toni outside in the Ring Garden to practice Qigong on Earth Day. A beautiful way to give thanks to her for all she gives us. We will use our breath, mind and our body awareness as we experience slowing down to feel ourselves connect with Mother Gaia, including a walking meditation. Register.
Earth Day Forest Bathing. 10 a.m.-12 p.m. Red Butte Garden Natural Area. Get outside and take notice of what is happening in the natural world. Forest bathing offers the magical beauty and healing power Red Butte Garden has to offer. Enjoy a dose of sunlight and the beauty of the changing season. Register.