Active transportation is a popular practice as almost 30% of students take to the roads on foot and on wheels to get to class and other destinations. Active transportation helps to meet University climate goals in reducing vehicle emissions that harm our air quality, while encouraging commuters to utilize alternatives to driving alone. People who actively commute improve their personal health and reduce traffic congestion on surrounding roadways.
The League of American Bicyclists has honored the University with a Gold Bicycle Friendly University (BFU) designation in recognition of the institution's achievements to promote safe, accessible bicycling on campus.
The University's active transportation program is primarily responsible for:
Educational programming and events encouraging walking, biking, and rolling.
Infrastructure management to support safe and connected routes for non-motorized travel.
Developing and reporting active transportation data.
Planning and development review to ensure best practices and supportive facilities are considered in campus development and design standards.
Government relations with Salt Lake City, Utah Transit Authority, Utah Department of Transportation, and other transportation partners.
Transportation is a basic need, the lack of which causes disparities in individual health, imposes significant costs,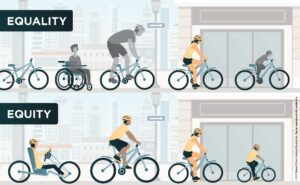 and prevents access to opportunities.
Through the U in Motion program, eligible students receive better access to transportation by receiving a refurbished bicycle and riding accessories. By committing to ride, students learn cycling skills and basic maintenance within a cohort.  Events and other resources are tailored to their needs as budding or experienced cyclists.
Referral for participation in this program is provided through The Basic Needs Collective from February 15th to November 15th of the academic year. Visit their office located in the basement level of the Student Union, or virtually during their zoom office hours. To see their current schedule, visit their website.
The U in Motion program is a partnership with the Basic Needs Collective, Bike Utah, and the Campus Bike Shop.