By Maria Archibald, Sustainability Office
"Baja California, for me is a siren song," says Dr. Shane Macfarlan. "I went there once. And I listened to the song. And it drew me in."
Macfarlan, a cultural anthropologist who researches kinship, social networks, and natural resource use in rural ranching communities on the Baja California Peninsula, will give a GCSC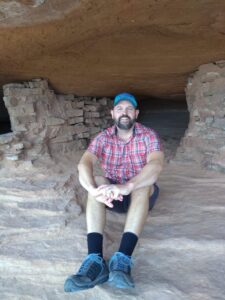 seminar on Tuesday, Feb. 1 at 4 p.m. called "Human-Ecosystem Dynamics on the Forgotten Peninsula: A Historical, Demographic, and Ethnographic Exploration of Baja California Sur, Mexico." His talk will examine how people adapt to harsh, arid ecology with minimal access to fresh water, and how such constraints affect human environmental dynamics over time.
At nearly 1,000 miles long, Baja California is the second largest peninsula in the world. "The key to knowing about Baja is that…there are no active rivers," says Macfarlan. "The only freshwater available to people, especially in historical times, was either desert springs or the seasonal rains associated with the North American Monsoon."
Limited access to fresh water "makes it pretty hard to live life," says Macfarlan, whose seminar will discuss the economic and climatological challenges faced by rural ranching communities in Baja California Sur, Mexico. "How do they accommodate these kinds of harsh ecologies?" Macfarlan asks. "And how do those ecological constraints shape the decisions that people make—whether it's about when to get married, when to start a family, when to time their births?"
As climate change worsens and droughts intensify, it becomes increasingly difficult to access fresh water on the peninsula. "Whereas in the past there was…less variability in the amount of rainfall received from the North American Monsoon, the droughts have gotten starker, more dramatic," Macfarlan explains. "This puts real pressures on rural peoples who live close to the earth."
People have long converged near desert springs across the peninsula, building their communities around fresh water. But as the water dries up, its absence is deeply felt. "There's not enough springs to support new families," Macfarlan says. "What does this mean for people to start a household? What does this mean for finding a spouse?"
Macfarlan hopes attendees will leave his talk with renewed appreciation—not only for water, but also for the peninsula he holds dear. "Baja is an amazing place, and we can't be treating it as this tourist destination you can trash…that's not sustainable at all," Macfarlan says. "I want people to understand it for the beauty that I see, which is the cultural beauty, the historical legacies, the unique ecologies that harbor diverse cultures, and diverse ecosystems that are worthy of our attention and our protection."
To learn more about the Baja California Peninsula and the role of water in shaping human communities, tune into Macfarlan's GCSC seminar on Tuesday, Feb.1 at 4 p.m.