By Maria Archibald, Sustainability Office
In her upcoming Global Change & Sustainability Center (GCSC) seminar, Dr. Joan Nassauer, a professor at the University of Michigan School for Environment and Sustainability, will explore the relationship between ecological landscape design and social science. Her talk, "Cues to care in socio-hydro-ecological systems," will discuss her cues to care theory, and explore strategic green infrastructure approaches that are both desirable to local communities and beneficial to the environment.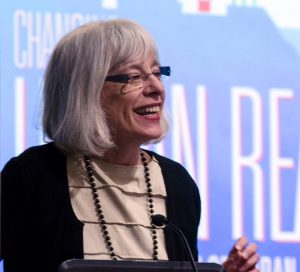 Nassauer, a landscape ecologist and landscape architect, works alongside ecologists and engineers to propose landscape interventions. She also conducts social science to understand what people want in their everyday environments and to assess how landscape interventions are received by the community.
"Joan Nassauer is this icon in the field that merges landscape design and ecology," says Sarah Hinners, a research assistant professor in the University of Utah's Department of City & Metropolitan Planning and last month's GCSC speaker. "There aren't a lot of people who bridge that gap between ecological science and design, and she's … absolutely a thought leader in that area."
In a panel discussion hosted by SESYNC, Nassauer explains that aesthetics and ecology are interrelated. People are drawn to beautiful, aesthetic designs, Nassauer says, and this attraction is intuitive but not necessarily rational. Designed landscapes—particularly urban landscapes—must reflect cultural values and norms in order for communities to accept and sustain them.
"We know what we like," Nassauer says. "And if we are good ecological designers, then we align what we think we like with what might actually deliver environmental benefits."
Cues to Care
Nassauer's research looks at "peoples' perceptions of landscapes and what people deem acceptable within their neighborhood, within their daily environment," Hinners explains. Nassauer's cues to care theory helps designers create urban landscapes that are both environmentally beneficial and socially desirable.
Urban and residential environments, for example, often lack ecological richness because people are uncomfortable with "wild" or "untidy" urban spaces. Cues to care, however, offers a solution: "You can have a fairly wild landscape, and people will be more willing to accept it if you can include in that landscape just one or two cues that communicate to other people 'it's okay, I've got this under control, this is in fact a cared for and intentional landscape, and it's not just running wild,'" Hinners says.
Throughout her career, Nassauer has developed and proposed green infrastructure in Chicago, Flint, Ann Arbor, and Detroit, and across southeast Michigan. She leads the Neighborhood, Environment, and Water research collaborations for Green Infrastructure (NEW-GI), a multi-phase project in Detroit that uses properties with demolished buildings to test green stormwater infrastructure, and she currently works with an interdisciplinary team to investigate community perceptions of smart stormwater interventions in South Bend, Ann Arbor, and Knoxville related to localized flooding and climate change.
NEW-GI will be a focus for Nassauer's seminar. Detroit has significant issues with flooding and vacant/abandoned buildings. After a recent major flood, some vacant houses were demolished, but ecological designers preserved the residual basement cavities and transformed them into gardens. "People in the neighborhood would benefit from well-maintained gardens, and what we needed to accomplish environmentally was to hold and clean storm water," Nassauer explains. Drawing on cues to care theory, designers created a product that met both of these needs. "[It] doesn't look like a wetland, [it] doesn't look like a retention pond—it looks and acts like a garden."
Join Nassauer on Dec. 1 at 4:30 p.m. at tinyurl.com/gcsc-cues (passcode: 256711) to learn more about Detroit's creative green infrastructure project, and how initiatives based in cues to care theory can transform urban spaces.