By Maria Archibald, Sustainability Office
What is the role of the university in addressing the climate crisis? How can academics engage proactively in environmental and social justice work? How can we transform our institutions to meet this political moment with the urgency it demands?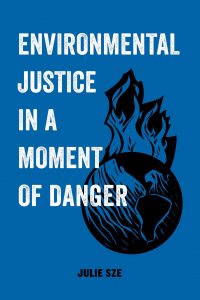 In her upcoming Global Change & Sustainability Center talk, "Interdisciplinarity, Intersectionality and Environmental Justice: The Time is Now," Dr. Julie Sze, author and professor of American Studies at the University of California at Davis, will tackle these challenging questions. Sze, whose background is in English, Ethnic Studies, and Peace and Conflict, was drawn to environmental justice work because of the movement's intersectional approach to environmentalism.
"Mainstream environmentalism is constructed as mostly white, and wilderness, and conservationist," Sze says. "That erases the stories of people of color and cities and workers," whereas "environmental justice as a movement was always about reframing the story of environmentalism."
Sze's research, which emphasizes environmental justice, inequality, and the intersection between social movements and policy, has led her to believe that we must construct a different kind of university in order to respond effectively to the climate crisis.
What does a different kind of university look like? Sze explains that there is no hard and fast answer to this question, but that we must think critically in ways that draw upon social movements and systemic alternatives to discover the university's role in addressing the climate crisis.
"There isn't one easy model," Sze says, and the process involves examining what students are taught in classes, who they learn from, and what is left out of the curriculum. She says it also means imagining universities that are not based in neo-liberalism, debt, and extraction, and planning campuses that provide more services and less policing.
"Can we have campuses without cops?" Sze asks. "That's a different kind of university."
As a scholar and educator, Sze also values academic spaces as entry points to environmental justice work. She was motivated to become politically engaged as an undergraduate student, but says of her upbringing, "I didn't come from a very political background. It's not part of my genealogy, my family history, my community, to be interested in these kinds of things."
She believes that universities are integral to solving the climate crisis because of the opportunities they create for students like her to learn things outside of their own lived experiences and to develop passion for environmental justice regardless of their upbringing. When universities make space for students to ask questions, feel outraged, and be curious, "more and more of them want to do this work…and make meaning in their lives," she says.
On creating a "new kind of university," Sze argues that we must always remember how our work in academia is connected to the outside world. She points out that while scientists have been warning about climate change for years, our response has not met the magnitude of the crisis. "How much empirical evidence do we have to show before something's done?" she asks.
The crises we face today must be met with creativity and urgency. "On the one hand, we have to do what we've always done, because it really matters," Sze says. On the other hand, we have to do something else." Join Sze at 4 p.m. Tuesday, Sept. 22 at tinyurl.com/gcsc-sze to learn more about what that "something else" looks like, and how you can contribute to the movement.