It is always a little bittersweet when our wonderful student staff and volunteers graduate. This summer we are saying goodbye to longtime garden steward Georgie, who reflects on her six years in the Edible Campus Gardens below. Thank you, Georgie! We will miss you.
Dear Edible Campus Gardens,
People say I have done so much for you, but they have it the wrong way around. It was you who made me grow.
It has been six years since we first met. It was my second week of my freshman year, and I showed up to the Sill Garden in a tube top and flip flops, because I didn't actually know what I was showing up for. All I knew was that it was a volunteer gig that didn't involve children – I had no idea how you would change my life.
We've both changed so much since that day.
On that first day, a garden steward named Cameron informed me that we would be composting (along with what that meant) and expanding the garden by laying down newspaper and mulch on top of the lawn. Not knowing how else to engage with new people, I asked if anyone was going to the football game. When they told me they didn't care much for sports, I knew I would keep coming back – I found my niche.
Over the next year, I continued to volunteer at least once a week. I learned that I love tomatoes, attended the first Fall Harvest Soiree (our annual volunteer appreciation event), and was thrown into the local, organic food movement. The garden crew unknowingly set the stage for what type of person I wanted to be; an environmentalist who had an excellent relationship with food. One pivotal moment I won't forget is when everyone was talking about different environmental books and issues. I asked them how they knew so much about environmentalism, and they informed me about the Environmental and Sustainability Studies program (ENVST). Right then and there I pictured the rest of my life as an environmentalist and never went back.
The second year I was determined to get a job with the gardens. I volunteered at every farmers market and learned how to operate the greenhouse. This was also the year Alexandra Parvaz submitted the first grant proposal to Sustainable Campus Initiative Fund (SCIF) to build a hoop house, and Alex asked for my help to present it. It was unfortunately denied because the Pioneer Garden was under threat of being turned into a parking lot. So, we led a "Save the Gardens" campaign – buttons and all – and a year later, we successfully put the Gardens on the official campus map, making it part of the U's foundation. That June I was hired on as a garden steward.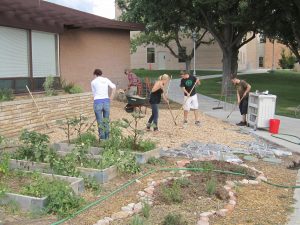 Over the next four years, the gardens and I grew together. I, the lead garden steward, managed the greenhouse, and ran the farmers market booth. I submitted another SCIF grant and successfully erected a hoop house after jumping through various hoops (pun absolutely intended) over three years.
New chapters of the gardens weren't marked by the seasons, but by the coming and going of new stewards. Each one contributed to who I am now. It is the community surrounding the gardens that makes it extraordinary.
Over the past six years, the Edible Campus Gardens community taught more than any class. Obviously, I learned how to garden, and the great importance of growing and eating fresh, organic food for ecological, social, and physical harmony. I also learned invaluable life lessons from my peers; how to be a leader, to love myself, to be genuine, and to not to take life too seriously.
I define myself now by my values of good food and community, ecology and stewardship – all of which stems from the Edible Campus Gardens. It is hard for me to think of us going our separate ways, but I know we will both continue to thrive. You will keep teaching, building community, and changing lives, and I promise I will do the same.
Thank you for everything,
Georgie