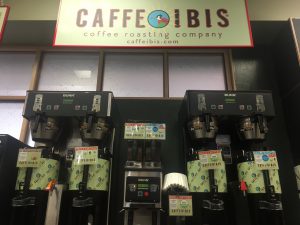 By: Nate Bramhall, Sustainability Ambassador.
If you're anything like me, the amount of money you've spent on coffee over the course of the semester is kind of astounding. Even though I save money by carrying my own coffee mug, my coffee spending comes out to more than $60 a month. But what is that money supporting?
Coffee futures are among the world's most traded commodities; in fact, coffee is among the 10 most imported foods into the United States by volume. For many of the developing countries that grow it, coffee is a vital source of export and economic vitality. According to Global Exchange, "some 20 million families in 50 countries now work directly in the cultivation of coffee; an estimated 11 million hectares of the world's farmland are dedicated to coffee cultivation." The global commodity chain for coffee is vast—involving a network of producers, middlemen, exporters, importers, roasters, retailers, and finally consumers—but unfortunately it is common for plantation workers to work in poor conditions for wages as low as $2-3 per day, according to Global Exchange.
It's important for coffee consumers to know where and how their coffee is produced, so as to avoid supporting socially and environmentally unfriendly production chains. Fortunately, there are several coffee shops on campus that offer coffee that has been certified as having been produced by fair trade standards. The following coffee shops have partnered with or purchased beans from producers who are committed to trade transparency, social equity, and sustainable farming practices:
Brio Coffee
Location: Art and Architecture Building (375 S 1530 E
Salt Lake City, UT 84112) and Aline Wilmot Skaggs Biology Building (259 S 1400 E Salt Lake City, UT 84112)
Roaster: Rimini
Caputo's
Location: Carolyn Tanner Irish Humanities building (215 Central Campus Dr
Salt Lake City, UT 84112)
Roaster: Rimini
Two Creek Coffee House
Location: Browning Building (135 S 1460 E Salt Lake City, UT 84112)
Roaster: Jack Mormon & Hugo Coffee
The Museum Café
Location: Utah Museum of Fine Art (410 Campus Center Dr Salt Lake City, UT 84112)
Roaster: Star Mountain Vendor
Union Building
Location: Union Food Court, 200 Central Campus Dr Salt Lake City, UT 84112)
Roaster: Caffe Ibis
Café Madsen
Location: David Eccles School of Business (1655 Campus Center Dr Salt Lake City, UT 84112)
Roaster: La Barba
Mom's Café
Location: Marriot Library (295 S 1500 E Salt Lake City, UT 84112)
Roaster: Peet's