This article was originally written by Kate Whitbeck and published in @theu on Feb. 5, 2020. It was updated in 2023 by Maria Archibald.
Want to stay warm this winter while reducing energy consumption and greenhouse gas emissions? Consider participating in our program Heat People, Not Spaces!
If you are a U faculty, staff, or student, you can trade your space heater for a free electric blanket. If you don't have a space heater to exchange, don't worry—electric blankets are also available for purchase.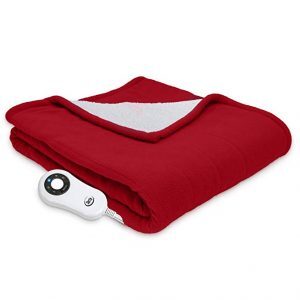 Space heaters are energy drains that emit greenhouse gases and pollute the air we breathe. By switching to an electric blanket, you'll save energy, minimize fire risk, and stay cozy all winter long!
Electric blankets use 90% less energy than a typical portable electric space heater. Using a portable electric space heater for 8 hours produces as much carbon dioxide as a 20.7-mile car ride. By switching from a space heater to an electric throw, you'll save emissions equivalent to a trip from the U to the border of Idaho – every week!
Heat People Not Spaces! is a partnership between the Sustainability Office and SEED2SOIL, a program that funds and supports opportunities for carbon reduction at the U. It is open to all faculty, staff and interns who wish to trade in the portable electric space heaters they use on campus. Blankets are free with a space heater exchange, or can be purchased via e-journal for $30.
To participate, please submit this form and we'll contact you to make an appointment. Blankets are limited and exchanged on a first-come-first-serve basis, so claim yours today! Questions? Email us at sustainability@utah.edu.