Cold Weather Cranking!
It's winter, and many people don't have bicycling on the mind. But keeping the cranks rolling during the colder months is a great way to stay active and reduce stress during the holidays.
Winter bicycling is not just for the hardcore go-getters. Anyone can enjoy winter biking—if you prepare appropriately.
How do I bike in the winter?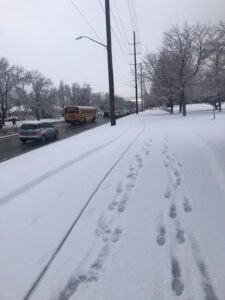 Remember these tips to stay safe while riding:
Wear multiple layers and pay attention to your hands and feet, as they can get cold quickly.
Avoid ice or get studded tires to reduce your chance of slipping on wet roadways.
Always wear a helmet—a tight fleece beanie underneath adds extra warmth!
Make sure you're visible. Use reflective gear, put lights on the front and the back of your bike, and wear bright colors—especially if you're riding after dark.
Plowed snow may cover some bike lanes. Remember that Utah has a Share the Road policy—the safest place to be is in plain sight in the middle of the lane so that drivers don't try to pass you when there isn't enough room.
The U's Campus Bike Shop provides bicycle maintenance and parts at affordable prices; check for winter hours on the website before visiting. Many local bike shops offer large discounts in December and January for annual tune ups and parts. Remember to avoid biking and other forms of outdoor exercise when the air quality is determined to be unhealthy. On polluted days, consider taking public transportation—your U Card provides free access to UTA buses, TRAX, and FrontRunner. Drive less and clear the air for all of us!
If you need help planning a route or want to talk about your experience walking or biking, please email ginger.cannon@utah.edu