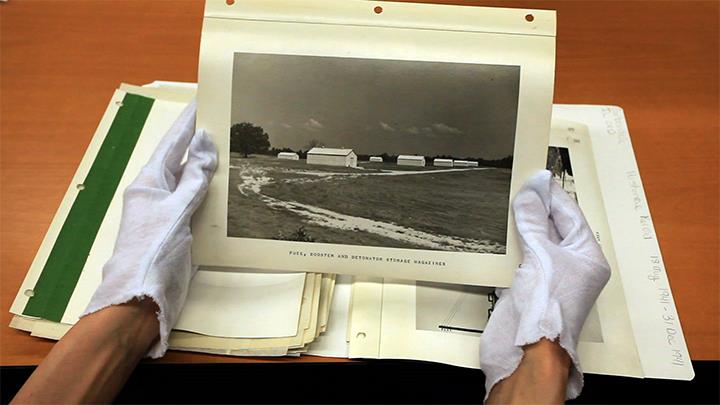 Bianca Greeff, Graduate Assistant.
Growing up in Los Angeles, Sarah Kanouse was aware of the ways Los Angeles transformed from a desert community to a bustling city by building water and power structure. Later, when Kanouse found herself in "small college communities surrounded by cornfields," she began to realize that rural landscapes are not as bucolic as they are portrayed.
"Being a person curious about where I am and what is surrounding me made me realize that the idealized landscape of rural America was heavily industrialized and engineered," said Kanouse. "It is just as engineered as the city of Los Angeles."
Landscapes, both urban and rural, are actively produced. Sarah Kanouse, Department of Art + Design at Northeastern University, works towards uncovering the historical, material, and social processes that have shaped a landscape through a range of artistic mediums.
Kanouse will present several of her recent works that address the ways in which environment and society influence one another at the GCSC Seminar Series on Tuesday, Feb. 20, 4-5 p.m. in 210 ASB.
Kanouse identifies with an emerging area of creative work known as artistic research or practice-based research. A single medium does not define this artistic practice, rather it is defined by ones' inquiry.
"For artistic research, the media you select needs to align with the set of ideas you are working with," explained Kanouse. "Artistic design realizes that mediums are not neutral carriers of meaning. They have legacies that can be used productively, critically, or skeptically in your work."
Kanouse's artistic research is focused on the social production of landscape. The social production of a landscape recognizes the social and cultural processes that have shaped our ecological surroundings—sometimes in overlapping and conflicting ways. Kanouse researches these social landscapes by looking both at the way we create pictures of the land, but also the social practices that shape how we and perceive it.
"Both the art genre [of landscape painting] and social expectations tend to make landscapes seem monumental and eternal. They generally conceal the ways [landscapes] are the product of historical, material, and ecological processes that have been going on for a long time," said Kanouse.
This inquiry inspired Kanouse to create a film titled Around Crab Orchard—which she will share clips from in her presentation. Kanouse, along with many others, enjoyed spending time in Crab Orchard as a place of recreation. Crab Orchard is the only wildlife refuge in the United States who hosts active industry. What began as defense contracting site in WWII has evolved over time to address the economic needs the community and the state's desire to open a maximum-security prison, said Kanouse.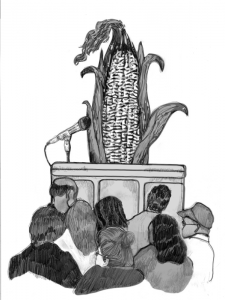 "The film weaves together all these different stories of Crab Orchard that are usually told separately, or not at all," said Kanouse. "It does so in a way that unpacks how the visual manifestation of recreation, hiking, and camping conceals all of the other aspects of this space."
Kanouse's work often alternates between solo projects and collaborative socially engaged projects. In the collaborative projects, Kanouse takes on the role of a facilitator who enables the creative expression and participation of people who may not identify as artists. One socially engaged project Kanouse has facilitated is The Monsanto Hearings. In this performative series, the courtroom became a stage for small communities dependent on agriculture to share their stories.
"We created this space for people to present evidence about how the decade-long practices of Monsanto had negatively impacted their community," said Kanouse.
To learn more, attend Sarah Kanouse's lecture, "Entanglements: artistic strategies for complex ecologies" on Tuesday, Feb. 20 at 4 p.m. in 210 ASB.
Cover Photo: Around Crab Orchard by Sarah Kanouse. Used with permission.