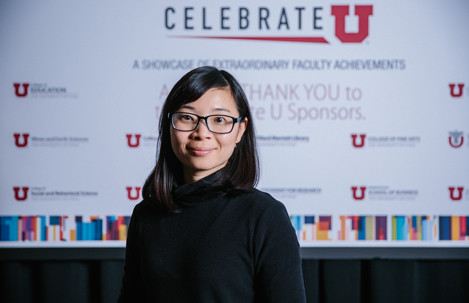 Bianca Greeff, Graduate Assistant
Lien Fan Shen is an Associate Professor in the Film & Media Arts Department at the University of Utah. She has published five manga (Japanese-styled graphic novels) in Taiwan, was awarded The Best Romantic Comic in Taiwan, and has won several international awards for her animation. Shen participated in the Wasatch Experience in 2015, and last month shared how she integrates sustainability into her courses at the interdisciplinary Sustainability Faculty Learning Community, a joint initiative of the Sustainability Office and the Center for Teaching and Learning Excellence.
I sat down with Lien after her presentation to discuss current projects, teaching strategies, and what the Wasatch Experience has to do with it.
The Ukiyo-e landscape print "The Great Wave" by Katsushika Hokusai is considered an icon of world art. What inspired your current project of using 3D technology to create Ukiyo-e style prints of Utah's polluted landscapes?
I am interested in Japanese prints. But, I am not a printmaking artist. I have a very limited knowledge in terms of producing printmaking artworks. I'm a 3D animator, therefore I am wondering about new ways to utilize 3D printing technology actually connecting to the form of art.
Historically Japanese woodblock prints were more like popular art than high art, such as comic books and movie posters today. They were produced for the general public. One major subject matter in Japanese woodblock prints are landscapes. At the time, people weren't able to travel around. So, if they wanted to see something from somewhere else, they would look at prints, just like we look at landscape photos today.
At the same time, I love Utah. I have traveled many places in Utah, and I think the environmental issues in Utah are huge. We have such amazing landscapes but often they present complex environmental issues. I thought about how landscapes are such a big subject in Japanese woodblock prints and thought "Why don't I bring Utah's landscape to that medium of art with new ways of making?"
Utah does have some magnificent landscapes. I am always disappointed when I can't see the Oquirrh Mountains or Wasatch during the inversion. What role do you see the digital arts, or the digital artist, having in sustainability conversations?
All artists are trying to do something that hasn't been done before. I don't think that is something specific to the digital arts. And what is not "digital" now anyway? I think it is some driving force to try something new by connecting us to, more importantly, the new idea of the human interaction with the computer.
I am not aware of any other computer animation artists trying to build a connection between computer animation and sustainability. I have seen a lot of digital photography about sustainability, but not 3D technology and computer generated arts. Computer generated images are often built upon a virtual world. When we talk about sustainability, we are talking about a lot of real issues in reality. We often separate the two—the real and the virtual world. I think this is a direction we should work on. We should connect the virtual world with the real world.
3D technology has been used widely in the issue of sustainability—as data-driven visual representation, serving specific scientific purposes, I would like to utilize this technology to incite some kind of feelings, expressions, emotions, that raises awareness of or challenges the unsustainable norms we have in society.
That is interesting idea—blending virtual and physical reality through sustainability. How do you incorporate sustainability into your animation courses?
In my animation production course, the students must learn the skills to make animation shorts. For our midterm project, I asked them to find a place that is significant for them and create an animation about it. Their final project is to create an interactive animation about a sustainability issue. To prepare, the students look for and analyze animation examples. What is the characters' view of the environment surrounding them? What are the different points of view presented in this particular example of animation? I want them to see the complexity of issues in sustainability.
Animation/Film/Art is always about something. I try to design a project for students to get interested in the topics related to the environment. When I teach, I don't call it sustainability. I get them interested in the environment and connect them with their environment.
Have you found any surprising connections to sustainability in your teaching?
I told them the idea of sustainability is open to your interpretation as long as you can convince me. I have some students working on the more personal side of sustainability. One project was about an eating disorder and more about sustaining herself as an individual. Another project was about depression. They argued it is about sustainable lives. One student did a great animation of silly/funny fights among characters. They were all shouting the word "sustainability" but they weren't really doing anything. I don't want to limit them, so I let them do all kinds of projects as long as they present a case of their view .
In the end, I always have something that is quite fun and interesting
What challenges have you faced incorporating sustainability into your courses?
The learning objectives of my animation courses are to learn how to make animation. I don't have a lot of time to discuss the issues, impacts, and why these issues are complicated. I asked my students to do their own research, but during the class time, we spend the majority of our time on learning animation techniques.
The class I incorporated the topic of sustainability in is actually a freshman/fundamental technique course. It is our basic course for animation students. So, I really hope we can have a more in-depth course where students already have the skills so they don't have to spend too much time in terms of learning how to make animation and thus we can spend more time on investigating the issues they are engaged in their animations. So that is one of the challenges I am facing.
How has your involvement with the Wasatch Experience impacted your teaching?
By going through the Wasatch Experience, workshops, and chatting with folks, I received a lot of help in designing this course project. For example, I always have an assignment of animation analyses. I ask my students to analyze the techniques, story, character design, art styles, and other elements in order to understand the medium (animation) better. But after the Wasatch Experience workshop, I ask them to focus on the topics of sustainability while analyzing animation techniques, styles, character development, and other stuff. That was the idea from one of my Wasatch Experience peers during a group discussion. Implementing this made this particular assignment more solid and I think my students' analyses now are more focused than before.
Also, my Wasatch Experience peers gave me a lot of accessible readings that I was able to incorporate into my assignments. I am not an expert on sustainability or environmental studies. I think not only I learned a great deal from others, but also now I am backed up with the network and resources for my teaching and research projects.
What advice do you have for faculty and teaching assistants who want to incorporate sustainability into their courses?
I think if someone wants to teach sustainability, the best approach is trying to not say the word. For a lot of students, this word becomes a barrier. In a way, you want to gradually bring them into what you want them to learn. Instead of telling them this big word that, in a sense, may mean nothing to them, my idea is always to think about how I can make them aware of their environment.
Image of Lien Fan Shen via the Utah Daily Chronicle article further highlighting her creative research and art-making.