University honors seven campus leaders with Sustainability Leadership Awards at the Environment and Sustainability Research Symposium.
[ngg src="galleries" ids="6″ display="basic_slideshow" gallery_width="1000″ gallery_height="800″]Each year, the Global Change & Sustainability Center's Environment and Sustainability Research Symposium provides an opportunity for students to share their interdisciplinary research with the U community. On February 13, the Union ballroom was abuzz with the sounds of 71 graduate and undergraduate students from 14 departments and 7 colleges presenting research posters showcasing an array of topics ranging from climate change to human behavior to the built environment.
During the event, the Sustainability Office and Alta Ski Area presented five Sustainability Leadership Awards to members of the campus community.
"Alta Ski Area is proud to be a part of the Sustainability Leadership Awards," said Maura Olivos, the sustainability coordinator at the Alta Environmental Center "for the honorees are not just being recognized for their innovation, but for their courage to stand out from the crowd. In our eyes it takes more than smarts to identify good projects that tackle the hard-hitting issues in sustainability or the environment, it takes perseverance and passion. We are happy to honor these leaders who bring these qualities to their work."
These annual awards honor sustainability leadership in the four areas of research, education integration, community partnership, and campus as a living lab. They include recognition as well as an honorarium. The campus as a living lab award is also supported by the Craig B. Forster fund, a fund established in honor of Dr. Forster, the Sustainability Office's founding director.
The 2019 award recipients are:
Sustainability Research Award: Daniel Mendoza, research assistant professor in Atmospheric Sciences and the School of Medicine's Division of Pulmonary Medicine.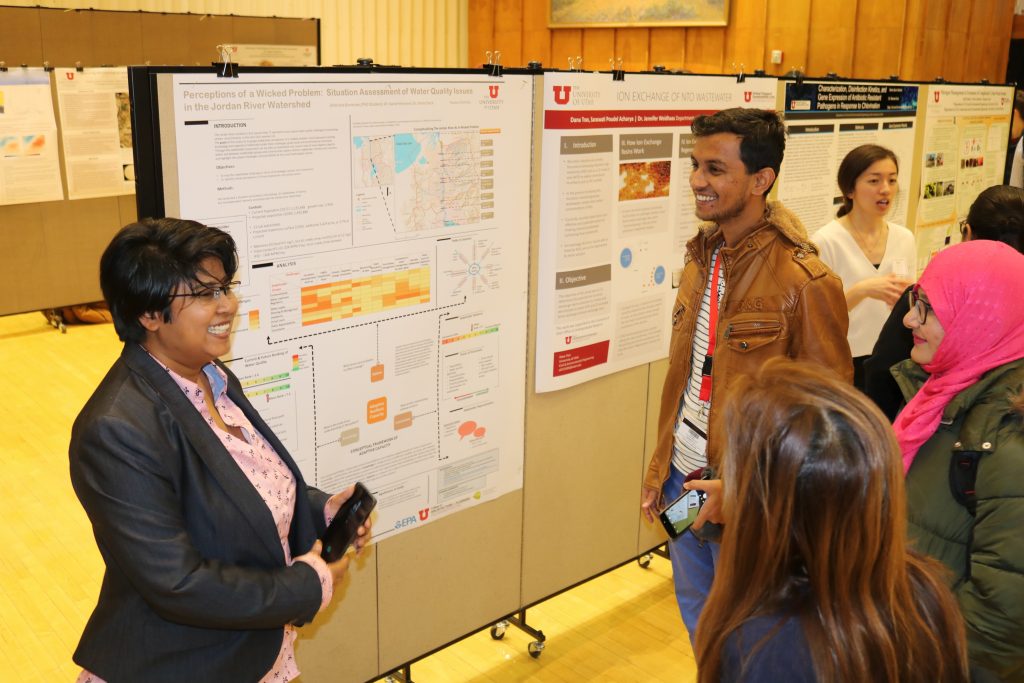 Daniel Mendoza was recognized for his commitment to equity in sustainability though rigorous research and community-centric outreach. His research focuses on air quality and urban pollution exposure. What is unique about Dr. Mendoza's work is the breadth and transdisciplinary nature of his research, his ability to engage the legislature, and capacity to translate policy into practice.
Dr. Mendoza regularly organizes and participates in outreach events to support west side residents in actionable education. Having observed that many on-campus events urge middle-class, white, well-educated participants interested in sustainability to 'get solar panels and buy electric cars,' Dr. Mendoza approaches his outreach events as opportunities to make immediate differences by offering free air masks and educating people about particulate pollution and ozone in ways that no-cost decision making can positively impact their family's health.
"Now more than ever, sustainability is no longer a choice, but a necessity. However, those most affected, in both the short- and long-term are often the ones who are least heard: the sick, the young, the elderly, and the socioeconomically challenged," says Mendoza. "My work focuses on understanding issues relevant to these vulnerable groups and find enactable solutions."
Education Integration: Edward Barbanell, professor (lecturer) in Philosophy
The strength of Barbanell's work lies in his ability to develop the 'big ideas' in how we ought to be approaching sustainability education, which ultimately impacts student attitudes towards sustainability and environmental responsibility. Barbanell's trans-disciplinary, multi-institutional, integrative, and imaginative approach to bringing sustainability thinking into the classroom sets him apart.
Such a profound shift in attitudes is evidenced by his own students. One study revealed that the number who were motivated to "take action in their personal and professional lives to create a more environmentally sustainable society" increased from 48% to more than 90%, and almost a quarter of the students became more interested in pursuing a career in earth or environmental sciences by the end of the course."
"The big issues confronting us require new ways of thinking and seeing, which will only emerge from conversations that cut across traditional academic disciplinary boundaries," Barbanell explains. "I have been fortunate over the last decade, to have fallen in with an inspired group of thinkers – engineers, biologists, earth scientists, and geographers, both here and at other Universities — who are beginning to have these conversations. It has all been quite exciting and inspiring, and I am thrilled that my efforts have been recognized and acknowledged by my colleagues, the Sustainability Office and the University."
Community Partnerships Award: Austin Green, graduate student in Biological Sciences
Green's work has focused on species distribution, abundance, and behavior in response to varying human impact in the Wasatch Mountains. Through his research he has provided transformative experiences for volunteers, built scientific literacy in our communities, and harnessed the power of community science to achieve research goals that would be impossible for an individual scientist.
Even more impressive is the scale of the community science project Austin launched to gather his research data. In the first year of the project, Green successfully managed 70 teams of community volunteers to deploy cameras at 205 sites across 950 km2 while coordinating the activities of five partners (federal, state, and local government entities and non-profits).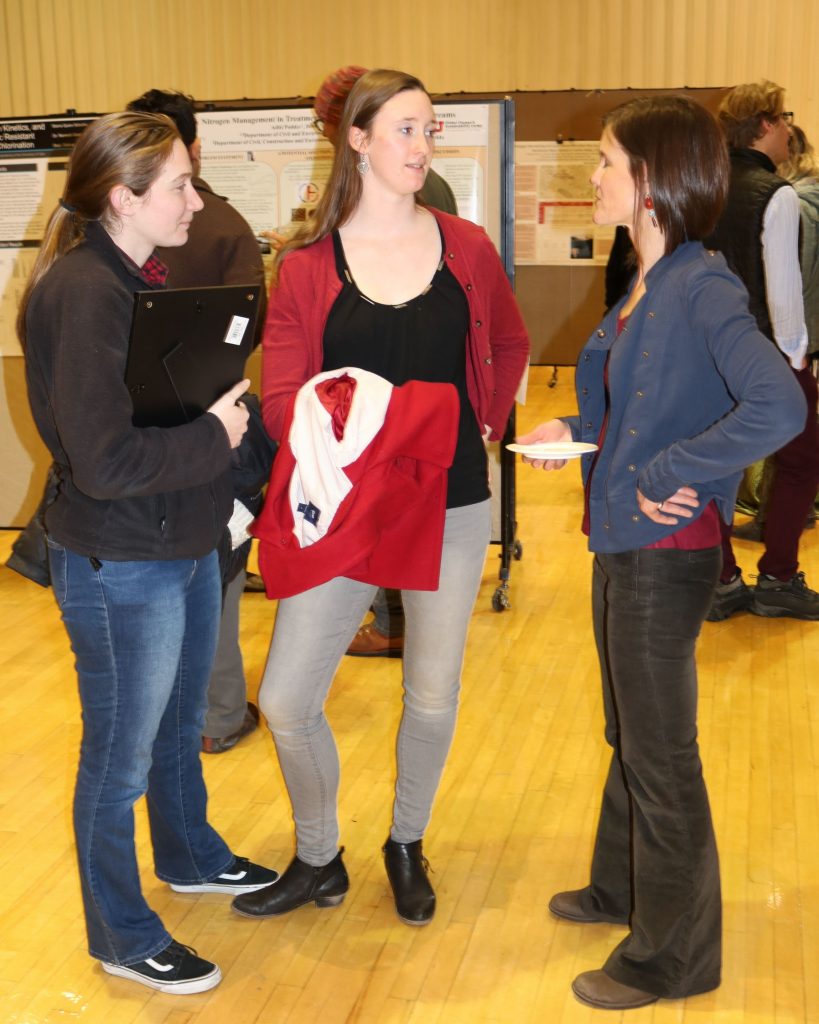 "I think community partnership is needed in any type of project that hopes to enact real change," says Green. "Especially in wildlife conservation, where current wildlife and wildland agency budgets are cut thin and applied conservation science is sometimes given short shrift, projects grounded in positive community partnership can make a long-lasting impact on our natural resources and our natural heritage. Support from the Alta Community Partnership Award helps solidify this notion and is further evidence that real change starts at the community level."
Craig B. Forster Campus as a Living Lab Award: Sierra Govett, Dillon Seglem and Yinhuan Huang, undergraduate students in the Environmental & Sustainability Studies program
Sierra, Dillon and Yinhuan were awarded a Sustainable Campus Initiative Fund (SCIF) grant to retrofit the lighting in the Special Collections section of the Marriott Library. These three students were enrolled in Jennifer Follstad Shah's capstone course last spring in which students were required to design and implement projects contributing to local sustainability efforts.
Early in the semester, Sierra remarked to the class that lights in many campus buildings are illuminated when occupants are absent, a waste of energy and money that could easily be resolved by replacing CFLs with motion sensitive LED lights. With the help of Dillon and Yinhuan, this idea evolved into a project that will ultimately save the university $56,000 in energy costs and 600 metric tons of carbon dioxide emissions over twenty-two years, while extending the lifespan of priceless archives housed in the Marriott Library.
"We wanted to find some place we could address lighting at a large enough scale to make a difference," said Govett. "We were pretty excited to do something that made such a difference."
2019 Lifetime Sustainability Leadership Awards: Stephen Goldsmith, associate professor (lecturer) in City & Metropolitan Planning
Professor Goldsmith's received three nominations with eight letters of support from colleagues in six different departments and centers, as well as from current and former students. The selection committee determined that Goldsmith's long and varied list of contributions and innovations merited a lifetime sustainability leadership award.
Goldsmith was recognized for his role in transforming the City & Metropolitan Planning Department's undergraduate degree program from Urban Planning to Urban Ecology, making it the first undergraduate urban ecology major in the country and the first planning program to fully embrace ecological thinking in name and content. He is known for his ability to mentor faculty, encouraging them to look beyond their own disciplines, beyond best practices and rules of thumb, toward solutions that are truly creative and innovative. On top of that, Goldsmith has seeded or catalyzed a diversity of initiatives, programs, and projects; from dark skies to food trucks; from movable tables and chairs in the quad to inspiring research "radicles" through undergraduate initiatives. The legacy that he leaves this university, the community, and the students who have been lucky enough to learn with him is truly monumental.
"I am deeply touched and honored that my colleagues and students have found value in my work," says Goldsmith. "In truth, this is about our shared work. I just have the privilege of being a part of it. Our community of creative, dedicated scholars, staff and students is truly something to celebrate."
The Sustainability Leadership Awards highlight the U and Alta Ski Area's shared commitment to sustainability. Alta's multi-year partnership with the U on these awards advances sustainability across campus.
"We are so grateful to Alta Ski Resort for their continued support of sustainability initiatives at the University," said University of Utah Deputy Chief Sustainability Officer Myron Willson. "This five-year partnership has brought recognition to some of the outstanding leaders who are committed to promoting sustainability on and off campus. Alta Ski resort is unique in their understanding of the importance of research and education focused on sustainability and the valuable contribution it can make to our entire community."
This year's award winners come from a variety of disciplines, demonstrating that sustainability demands collaboration, creative thinking and expertise from across campus and community.
Join us in congratulating these awardees on their excellent work and look for a future call for nominations for this award in early 2020.